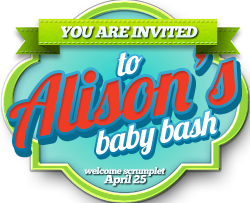 A really great blogger and all around nice person, Alison from Mama Wants This is having a baby! I mean, not like right this minute. As far as I know. But some friends are throwing her an online baby shower, and I'm so happy to participate. As a baby shower guest, I'm linking this blog with our shower hostesses, Ado, Stasha and Erica!
This virtual baby shower has three games to play.
1. Post your favorite baby photo telling us why it's your favorite & add a quote about motherhood.
This is my brother and me with our father. Daddy is no longer with us, and this brings back so many memories. See that little bookcase on the left? That is sitting in my classroom right now. On top of it you can see Daddy's coffee cup. It contains coffee with "just enough milk to take the wang' off of it." Next to that is (I think) his bowling trophy from his league's one championship season, the year I was born. The night I was born happened to be league night, so of course, after he took Mama to the hospital, he went bowling. It was the fifties; men didn't go into labor and delivery; they just sat in the waiting room. May as well go bowling. That night he bowled his one and only 300 game. You just have to love that!
With my mom
My quote: If you have a mom, there is nowhere you are likely to go where a prayer has not already been.
That quote pretty accurately sums up my mom.
2. Guess Alison's baby's due date, weight, and height.
No baby should weigh over 7 pounds. That's just my rule. My babies were 6 lbs 2 oz and 6 lbs 11oz, and that was plenty. For that reason, I'm guessing Alison's baby will be exactly 7 pounds and be born on Mother's Day because that's just so sweet. Ummm, I suppose 19 1/4 inches is about right.
3. Pin your favorite ideas for baby shower gifts from Pinterest.
I had to cheat because I couldn't find anything I liked on Pinterest. These came from elsewhere on the Internet:
(Cynthia's note: When I originally wrote this post, I included a link to an adorable little fireman's outfit. That link no longer works. But it was really cute!)
So, congratulations, Alison, and best of luck. I can't wait to see pictures of your little fireman!